Welcome to Harvey's Roofing LLC    928-301-9015
We are conveniently located at:
3325 E Beaver Creek Road
Suite 106
Rimrock, AZ 86335
officeofharveysroofing@gmail.com
Our customers are primarily homeowners throughout Northern Arizona. We believe that we offer exceptional value in our workmanship and in the products we provide.
Our Arizona Contractors License number is 318928 and can be seen AZ ROC License
Family owned and operated by Michael Harvey, Harvey Roofing LLC has built its reputation by doing things right.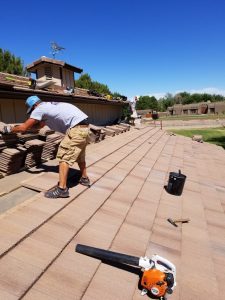 For over 20 years, we have stood behind our work. All of the materials we use are  installed as per the manufacturers specifications and recommendations. The work we do is in accordance with all Building Codes and Regulations. Harvey's Roofing LLC can provide warranties and will honor all written guarantees.
Our team is set up for EMERGENCY REPAIRS, entire re-roofs, and small projects like mobile home roofs and porch roofs. We can provide a Free Estimate for a roof inspection and offer options on materials, products, and colors.
Considering a Metal Roof? Trust Harvey's Roofing LLC. We have the experience, tools and product knowledge.
Does your Shingle Roof need to be removed and replaced? Check out our Shingle Colors where you can see entire roofs from top manufacturers.
Clay Tile Roof leaking? Please Contact Us before you make a decision! We may be able to save you money by expertly examining and pinpointing your problem.
When was the last time your Flat Roof was inspected? Our advice? Don't take chances. A properly maintained flat roof can be trouble-free. We have specific Roof Coatings that offer many benefits.
Harvey's Roofing LLC is here to help. We understand that you may be getting more that one bid. Allow us the opportunity to provide a complete cost analysis. We are passionate about what we do and work hard to earn your trust.
We want to be:
"Your Hometown Roofing Contractor"
928-301-9015